The (in)visible project is a community driven program that connects queer and trans people from diverse cultural and religious backgrounds (QTPOC) aged 16-25 through workshops and events.
The (in)visible crew is made up of QTPOC, who are experts on how well being is articulated and responded to in community. We lead the project in acknowledgement that all too often our service system silos our social realities (be these queer, faith or multicultural).
In collaboration with Minus 18, (in)visible produced an inter-sectional educational resource for school aged young people called "OMG I'm QTIPOC".
As of late August 2020, we've introduced a NEW Youth Peer Leader working with us. Say hello to Korra!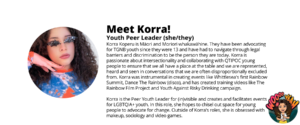 ---
Every fortnight, we meet up to create a space familiar to the attendees. These activities range from:
– Cooking Classes
– Crafting Days
– Panel discussions
– Movie viewings that represent us on screen
– Keynote discussions with QTIPOC leaders
– Pamper days
– Walks in nature
– Learning about other cultures and their queerness
– Engaging with older QTIPOC members
– Make-up classes
– Attending LGBTQIA+ spaces and creating a QTIPOC safe space for attendees
– Creating events that are apart of festivals in CITY OF MELBOURNE
– Video games and pizza
– Queer Iftar
– Reading groups
– Movement and Yoga classes
– Spoken word workshops
– Events centering Queer First Nations Folk

If you have any idea's on what we should do to support other QTIPOC, send us a message! And if you have any inquires about attending our events (location, price, age, accessibility) also send us a message!
Be sure to check out our Isolation Info-Station booklet in the resources section down below! Over the course of the next few months, we will gather some activities that we think would be great for everyone to access. This will be updated for the remainder of the year whilst we focus on doing programs online due to lockdown here in Narrm (Melbourne).
---
(in)visible is proudly funded by the City of Melbourne