Recently four great young people, including Shan (a Youth Peer Leader) and Sabrina (a Peer Leader), featured in ABC's launch of 'Takeover Melbourne' !
At ABC they met with Lord Mayor Sally Capp to kick off the new initiative that creates a powerful platform for young Melbournians to be heard!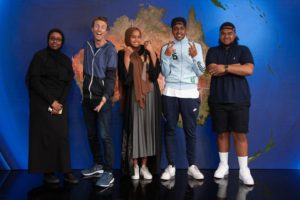 Read more about Takeover Melbourne here!
---

APPLICATIONS HAVE CLOSED!!!
This role is also studying at the same time (at the end of your 12 month contract, you will have CERT 4 Community services). This is a role for someone who can commit to 4 days a week.
Clink on this link to apply!!
What does the Youth Peer Leader in 2019-2020 mean?
This is a new initiative where the successful applicant will be also studying with RMIT (as in no fee's!) so at the end of their contract, they will have a CERT IV (4) in Community services. This will lead to future opportunities either within Drummond St or at other community organisations
You will be working 22hrs per week (2.5 days) in the office.
There will also be 1 days study at the RMIT campus
To make sure young people engage with our programs, you will be leading the social media accounts for the programs you will be running (with help from co-workers)
There will be consultations organised with community and young people. This is to help create programs and events with community input
Feedback sessions where you hear from attendee's on how the programs we run are going
Collaborating with other organisations to engage with young people that might be accessing their services
Occasionally there will be requirements to attend training days and networking events (during work hours) where you will be a representative of THE DRUM youth services. This will give our supporters a chance to see the good work we do and who is leading these programs (aka you!)
During your contract, there will be opportunities for professional development (this means handy skills to use whilst in this role and to use in other jobs as well!) and training sessions to help you.
---
Running since 2013 our youth peer leader program (YPL) creates real opportunities for young people to build and utilise their leadership skills & to have influence over their local community.
The YPL program recognises that young folks hold valuable experimental knowledge that is vital to how we design and deliver our services as well as to creating the kind of world they want to exist in.
It also provides tangible leadership and employment pathways for the communities we seek to assertively engage. We are committed to making sure that young folk that who don't always have the same opportunities as their peers are employed. This includes those:
Living in public housing;
Who identify as LGBTQI+;
From diverse religious, cultural, ethnic and 'racial' backgrounds
International students.
Exciting changes! We've grown!
Initially the Youth Peer Leader program was funded by the City of Melbourne for our Youth Services. This meant that young people need to demonstrate that they live, who live, work or have a strong connection to Carlton and Parkville.
From July 2017 we are psyched to deliver this program for young people who live on the Richmond and Collingwood housing estates. We are funded by City of Yarra to do this! Thanks Yarra!
---
What can you expect?
If you are interested in an YPL position with us you will need to go through our recruitment process. We try to make this as less stressful as possible by creating opportunities for people to volunteer when they are passionate about community but haven't been involved in 'formal' types of community involvement. The application process usually involves a written component and an interview. Our peer leaders & staff are involved in every stage of this so- you will be surrounded by smiling and supportive faces.
If you offered a position, you can expect to work as part of our team for 12 months. We have two YPL every 12 months (October – September). In this time, you will receive some 'in-house' training that is designed to build professional skills for working in the community sector. You will be working with our team to then consult with local young people about their aspirations and concerns. This is part of our co-design process, where young people are able to make recommendations on how to respond to what they have heard from their peers. Then you are often involved in the delivery of these activities (planning, budgeting, booking venues and facilitators). You will also be required to come along to organisational meetings as a representative of THE DRUM youth services.
---
How can I apply?
Our application process opens in September each year and can be viewed here. Applications have closed and will be reaching out to those who have applied in the coming days.
Because applying for a job and especially a dream job like a peer lead, can make folks nervous! We are happy to answer any questions you may have before applying so please message us through youthservices@ds.org.au
---
How can I build a strong application?
We know that young people are often really passionate about their community but might not have gone to uni, had paid work or done volunteer work. To support young folks like this we created volunteering opportunities in our team. Message us to chat more about volunteering with us if you want get a sense of what it's like to work with the drum.
What are we looking for in potential youth peer leaders?
A strong connection to Carlton/Kensington/North Melbourne (live, work, study, play)
Passion for your community or social justice?
Be a good team player
A commitment to being part of our team for 12 months
Ideas about issues for young people in the local area
Demonstrated involvement in the community
Know about LGBTQIA+ issues
And, because you are working with young people, all youth peer leaders need to get a Working with Children Check. We will then complete a Police Check. Applications close 30th September midnight.