What can you expect?
Underground Women's is a space for young women aged 12 – 25 to come together and do amazing things. UGW is a community of strong, fierce, intelligent, complex and welcoming women. It's free and we provide delicious snacks.
Underground Women's is facilitated by Sian, a youth development practitioner who is passionate about delivering creative programs for young women and Sabrina, a youth peer leader who brings a wealth of skills, passion and good vibes to the program.  Sian and Sabrina support local young women to plan fun and interesting activities, learn and share new skills and make positive connections with one another and the local community. Past and current activities include cultural dance workshops,  baking, jewelry making, basketball and soccer, roller skating, podcasting and film making with our partners Signal Arts.
---
Is permission required?
Short answer – yes, pick a registration form up on program.
ALSO – You can just turn up and meet other young women and if you start attending regularly we will ask you to complete a registration form.
---
Why do you need to complete a registration form?
the drum registration form should have all the deets you need, and also for your parent, guardian or carer. The form outlines what the Underground Women's activities are, including ours and your responsibilities. We also need emergency contact details, we usually don't need them, but just in case we need to contact your parent, guardian or carer in case of an emergency. It is also useful to know – and if we don't ask – we don't know about any spiritual, health, dietary and wellbeing needs you may have.
If you are under 18 the registration form needs to be signed by your parent, carer or guardian to complete registration form.
If you are over 18 you can sign this for yourself but we'll still need some emergency contact details.
We absolutely keep your information confidential and we respect your privacy.
If you want to be super organised and bring the registration form on your first visit to the program. Otherwise, we can provide a paper copy when you attend the program.
---
Locations
Term 1 2020
Carlton – Kathleen Syme Library – 251 Faraday Street Carlton. Rooms vary based on availability so make sure you check on the screen located at the front to see which room we are in.
North Melbourne Community Centre 49 – 53 Buncle Street North, North Melb. We move around the centre but you will be able to find us in either the drum youth space, the stadium, games room or kitchen.
---
Can we help you attend?
If you are new to the program  (or you know someone) who might need some encouragement or support to attend, just give us a holla and one of the drum's friendly team members can help this happen.
---
Who runs these programs?
Our lovely facilitators Sian and Sabrina will be the main people you'll be seeing during at Underground Women's !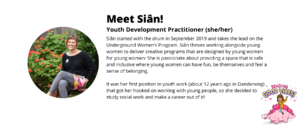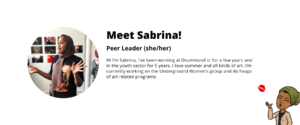 ---
During Covid19
During the pandemic we're doing a bunch of exciting online programs including Self-Care  on Wednesdays, and Games & Chats every Thursday.
To join us, check out our Instagram , or contact Sian!

If you're interested in a Carepackage during this time, please dont hesistate to get it contact as well!