Sponsored by City of Melbourne, and funded by FreeZa, the drum youth services presents DROP THE BEAT, 2.0. Shout out to SIGNAL ARTS for hosting this project for the whole week on their screens and speakers!
---
What is Drop the Beat 2.0?
DROP THE BEAT is a project that was put together by young people, passionate about providing events for community, by community. Over the course of 5 months (in 2020) we met with our youth collective to hear their thoughts and strategies in what they wanted in a space, amplifying their talents. Music was the main theme, and with that, DROP THE BEAT was established.
With the pandemic that hit worldwide, it meant that it effected our program and we had to postpone it until it was safe to continue with planning. 
But now, with everyone coming back to spending time with everyone in a post COVID time, we are bringing back most of our events, in a new, improved and COVID safe way. 
---
What can you expect?
Over the 7 days, the community and public will be able to view video's that have been created of our chosen 4 youth groups. These youth groups will showcase some of the talent that is a core expression of the attendee's that frequent their program. From blues music, Rap and Hip Hop, bands and electronic music, you will be able to see (and hear) them take the stage, virtually, every night projected on the SIGNAL building. A concert that you will find hard to miss!
---
Can we help you attend?
If  you need some encouragement or access support to attend give us a holla and one of the drum's friendly team members can help this happen. Send us a message on our many social media platforms!
---
How to get there?
There are many ways that PTV can get you and your family there to view it. You could catch a train to Flinders st Station, but also catch the tram to Market st/Flinders st. You can also take the bus to Queens bridge and take a short walk down Banana alley. Be careful though, there is cobble stones so the path isn't as smooth.
---
Who is leading VoiceFest?

---
You may be asking, who is performing then?
We are working with 4 youth groups that we feel align with our views in championing young people with the skills they already have. These youth music groups have been doing amazing work within there municipalities and have been working with them since February. Check out the info below and click on the image to zoom in!
Group 1: Youth in Blues
Group 2: RYMS
Group 3: Aarvark Music
Group 4: Decibels youth music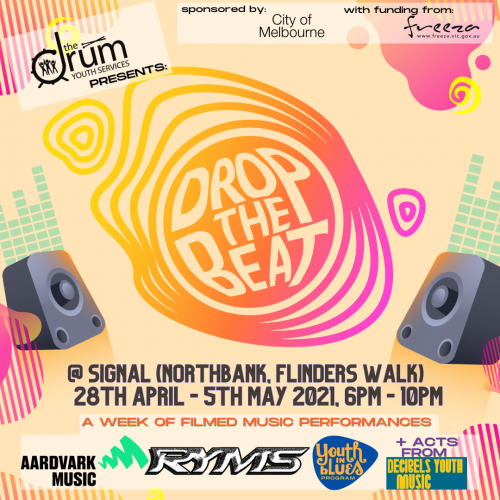 ---
Drop the Beat 2.0 is proudly funded by the City of Melbourne