Program Description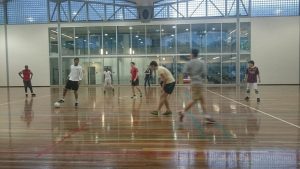 Friday Night Jam is two hours of futsal or basketball for young people. It's a time to play ball, get sweaty and healthy competition.
It is delivered in partnership with Carlton Baths and co-facilitated by a youth development practitioners and a youth peer leader. Older young folk sometime help us referee and keep score. Across the term we also celebrate young people who've played well and sometimes we have a BBQ 'cause it's the end of the school term.
---
What can you expect?
Lots of young folks killin it on the court or chillin' together cause it's the end of the school week or some folks are excited the weekend. Young folks are mad for futsal and using the court time the best they can and is a competitive way so it is often a highly energetic environment.
---
Can we help you attend?
If you want to chat with someone about the program to make sure you know someone before you attend,  or perhaps you know someone who'd love to play ball, either way give us a holla and one of our friendly youth workers can make you feel comfortable and welcome.
---
How to get there
Carlton Baths is easy to find. If you are taking public transport you can jump on tram 1 or 8 tram and get off at stop 113 Lygon St (near Vic Roads). Will just need to walk one block to Rathdowne St to find the Baths.
---
Access
Carlton Baths is well equipped to cater for people of all abilities. Accessible car spaces located at the front of the building, Lift for access to the upstairs group fitness rooms Four accessible change rooms.
---
Is permission required?
Short answer – yes. Click on this link to complete simple registration form.
ALSO – You can just turn up and meet other young men with a connection to Carlton and Parkville. If you start attending regularly we will ask you to complete a registration form.
---
Why do you need to complete a registration form?
the drum's registration form should have all the dets you need, and also for your parent, guardian or carer.  The form outlines what the activities are, including ours and yours responsibilities. We also need emergency contact details, we usually don't need them, but just in case we need to contact your parent, guardian or carer in case of an emergency. It is also useful to know – and if we don't ask – we don't know about any spiritual, health and wellbeing needs you may have.
If you are under 18 the registration form needs to be signed by your parent, carer or guardian to complete registration form.
If you are over 18 you can sign this for yourself but we'll still need some emergency contact details.
We absolutely keep your information confidential and we respect your privacy.
If you want to be super organised and bring the registration form on your first visit to the program click here. Otherwise, we can provide a paper copy when you attend the program.